HUITEX Geocell is an innovative Geosynthetic products providing cost-effective solutions for ground stabilization, erosion control and earth retention.
HUITEX® Geocell made of virgin polyethylene strips, which use same formulation as HUITEX® Geomembrane, have high tensile and peel strength. With its flexible and lightweight cellular confinement system, HUITEX® Geocell provides the most suitable solution for soil stabilization, erosion control and earth protection.
Further, HUITEX® Geocell system also featuring:
Reduces infill cost, onsite fill is fully accepted
Eco-friendly, open-cell structure easily for vegetation
3D honeycomb confines and stabilizes cohesionless soils
Be a protective layer, over the impermeable geomembrane
Benefit from excellent seam strength, delivery vertical load into cell and infill
Specialized in:
Slope protection
Erosion control
Channel protection
Embankments
Retaining wall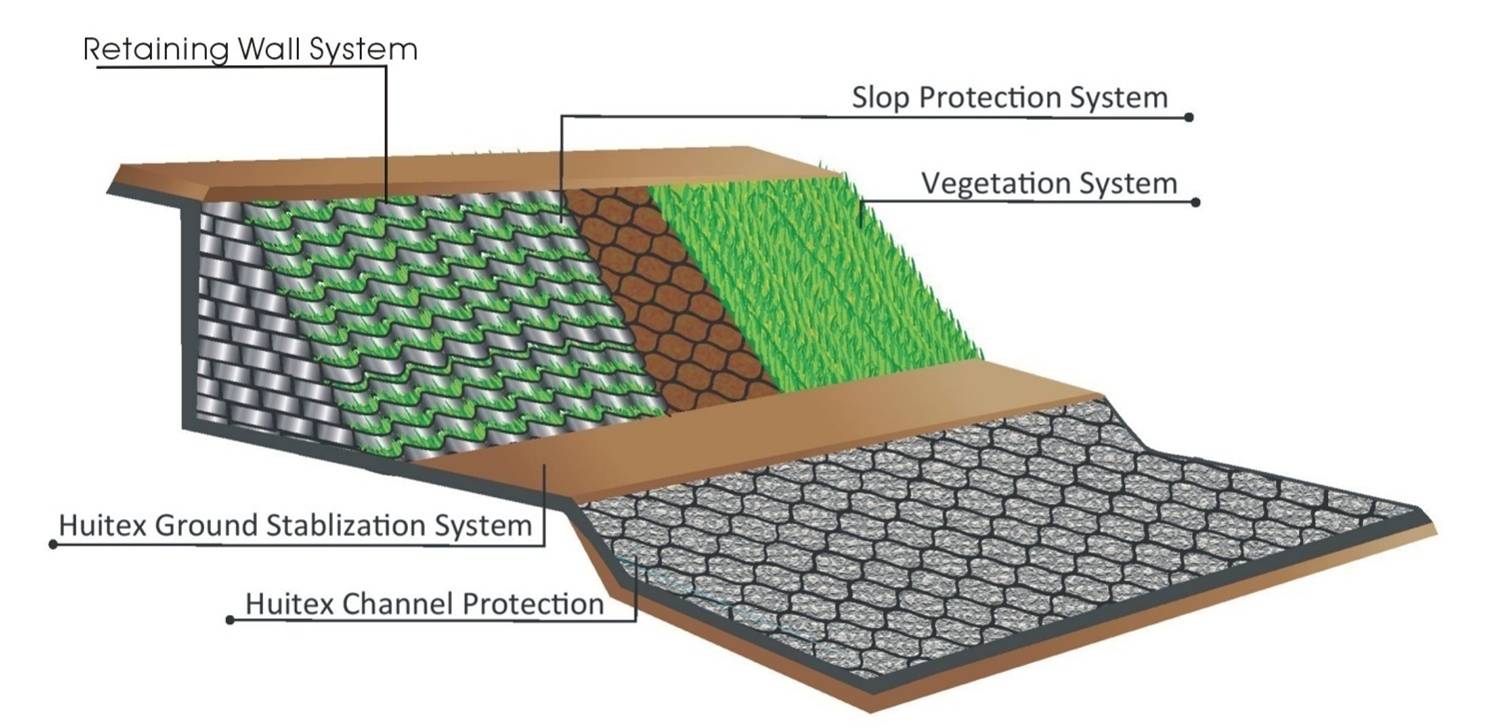 Material and Seam Properties
Properties

Test Method

Value

Material

High Density Polyethylene with density >0.94g/cm

Carbon Black Content

ASTM D1603

>1.50%

Standard Color

Black (standard); color(applicable)

Surface treatment

Smooth or textured (diamond sharp)

Sheet Thickness

ASTM D5199

1.25mm (smooth) or 1.5mm (embossed textured)

Perforation

Applicable

Shape of capsule (7.5mm x 20mm) or ϕ10mm round type

Seam Properties

Cell Depth±3

Average Certified Cell Seam Strength

Short-term seam

peel strength

50mm (2 in)

>760 N

75mm (3 in)

>1060 N

100mm(4 in)

>1420 N

150mm(6 in)

>2130 N

200mm(8 in)

>2840 N

Seam Hang Strength,

Days

COE GL-86-19

Per 100mm seam shall sustain 72.5kg weight for at least 7 days, undergoing the variances from room temperature to 53℃ on one hour cycle.

Dimension & Packing
Type

Welding distance

Single Cell/expension size

AREA PER SECTION

WIDTH

LENGTH

Model A

330mm

244mm

203mm

15.00 m2

Model B

660mm

488mm

406mm

30.00 m2

Model C

355mm

259mm

224mm

17.50 m2

Model D

710mm

510mm

475mm

36.50 m2

Model E

446mm

320mm

287mm

22.00 m2
This information is provided for reference purpose only and is not as a warranty or guarantee.
Huikwang Corporation (HKC) reserves the right to change the specifications contained herein without notice.